This past weekend was one of those weekends where I spent hours on my feet in the kitchen, making messes and whipping up all kinds of goodies.
So on this lovely Wednesday, we'll be joining Jenn's What I Ate Wednesday Party, as I share What I Made This Weekend. Bear with me as I recap some of the highlights, and their uses in my recent meals.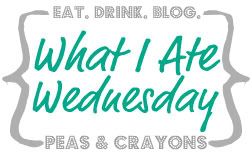 Saturday morning started out as usual, with a trip to the City Market. My first stop was North Cove Mushrooms, where I picked up these beautiful and delicate oyster mushrooms.
I had one thing in mind for these lovely fungi– Gena's marinade! I had never thought to marinade mushrooms before, and when I saw this idea, I had to try it! The North Cove guys told me that oysters (and other delicate varieties) need less time than tough 'shrooms like portobellos.
Mushroom Marinade

1/3 cup olive oil
1/4 cup balsamic vinegar
1/8 cup maple syrup
3 tbsps nama shoyu
A few healthy grinds of pepper
This recipe makes a lot of marinade – I only used a small portion of it for the mushrooms, and used the rest to marinade one pound each of tofu (for me) and steak (for my husband). I let them soak for 1 – 2 hours, and then drained them partially and transferred them to tupperware, ready to be used for meals throughout the week.
Thinly sliced tofu shined under the influence of the marinade, thanks in large part to the maple syrup which created a slight crust when the sugar carmelized. I paired my tofu with simply roasted broccoli and potatoes – tossed with olive oil, salt, and pepper (plus fresh rosemary for the potatoes) and baked at 35o degrees for about 30 minutes.
And the next night, leftover tofu joined a few mushrooms and sauteed carrots, peppers, and scallions for a tasty Meatless Monday soba noodle dish.
Next up was pumpkin nut bread that I made to take to a Sunday Brunch potluck with my fellow Ashtangis. I adapted a basic recipe from one of my many (underutilized) cookbooks to use almond meal, whole wheat flour, and honey rather than white flour and sugar.
Since the bread was not very sweet, I decided that "frosting" was necessary, and blended up a basic cashew cream to serve as a sweet topping.
Pumpkin Nut Bread
Makes 1 Loaf
Ingredients

1 cup almond meal
3/4 cup whole wheat flour
1 teaspoon Baking Soda
1/4 teaspoon Baking Powder
3/4 teaspoon salt
1 (heaping) teaspoon Pumpkin Pie Spice
1/3 cup coconut oil, melted
2 eggs
1 cup pumpkin puree
2 Tablespoons honey (more if you want sweet bread)
1/2 cup chopped walnuts

Method

Preheat oven to 350 degrees. Combine dry ingredients in a large bowl, and set aside. Combine wet ingredients in a bowl. Add wet ingredients to dry ingredients. Stir in nuts until just combined. Pour batter into a well greased loaf pan. Bake for 45 – 60 minutes, until a toothpick inserted in the center comes out clean.
Vanilla Cashew Cream
Ingredients

1 cup cashews, soaked for at least 4 hours
1/4 – 1/2 cup soy milk
1 teaspoon vanilla extract
1 – 2 teaspoons agave syrup

Method
Combine ingredients in a food processor, starting with 1/4 cup soy milk. Blend until smooth, adding more soy milk as needed to create the consistency you desire.
And since I was soaking cashews…
I whipped up some creamy cashew dressing and cashew cheese– two things I've been reading about on Gena's blog.
Rosemary Cashew Cheese (pictured on the right above)

2 cups cashews, soaked for at least 4 hours
1/4 cup fresh rosemary, chopped
1/2 teaspoon sea salt
Pepper to taste
2 – 3 Tablespoons Lemon Juice
2 – 4 Tablespoons water

Blend in food processor until well combines and smooth. Add water as necessary.

Creamy Cashew Dressing

1 cup cashews, soaked at least 4 hours
1/4 cup lemon juice
3/4 cups water
1/2 teaspoon salt
1 teaspoon Garam Masala

Blend in food processor until smooth. Add more water as necessary.
Both the cashew cheese and dressing will be used for my lunch time salads. I used the dressing for a lovely dinner salad with kale, green onions, carrots, chopped apple, chickpeas, and roasted butternut squash.
I have been missing having my Coconut Chia Balls to snack on, so I decided to make more balls, this time, with chocolate!
These brownie bites are super simple to make, and are the perfect sweet treat after dinner. They're delicious plain, but truly decadent with a little of my cashew cream spread on top.
Brownie Bites

Makes 12 – 15 balls

1 cup nuts (I used cashews and walnuts)
1 cup dates
1/4 teaspoon salt
2 Tablespoons cocoa powder
2 Tablespoons raw cacao nibs

Blend ingredients in a food processor until a "dough" forms. Roll into "two-bite" sized balls, or press into a pan and slice into squares.
Last but not least, my weekend kitchen extravaganza included a visit to Miss Smart's kitchen to help her make her first batch of Kombucha!
We used two SCOBYs, since one had been sitting in her fridge for months. Stay tuned for more on how we plan to flavor this brew.
What did you make this weekend?
-L