While Lindsey and I were on hiatus for the holidays, I was shockingly lazy.  In a week and a half, my only exercise was one (ONE!) walk.  My usual physical activity was replaced by lots of kitchen activity!  For this WIAW post, I'm sharing some of the best dishes I made and ate while on vacation.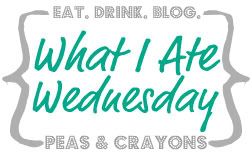 After my matinee performance on Christmas Eve, I hopped on a plane to Southern California to spend Christmas with my aunt, uncle, and parents.  Shortly after walking in the door, my uncle handed me a Cranberry, Gingerly cocktail.  YUM!  I have a bit of a ginger obsession, so this delightful concoction with ginger beer, ground ginger, and a garnish of crystallized ginger was right up my alley.  It was also a fun, festive shade of red.
Christmas morning began with coffee and mimosas.  After opening presents, we sat down for an delicious brunch.  My mom and aunt had prepared a Sausage, Fontina, and Bell Pepper Strata the night before, so we just had to pull it out of the refrigerator and bake it in the morning.  The creamy fontina cheese balanced the spicy Italian sausage wonderfully.  It was a delicious, savory dish.
We can't have savory without sweet, so we also prepared Maple-Poached Pears with Ricotta and Pistachios.  These tasty pears could be served as a dessert as well.  They were so good!  The crunch of the pistachios was a nice contrast to the soft pears, and the ricotta kept the dish from being too sweet.  I will definitely make these again.
With beautiful food and beautiful weather, our table for Christmas Brunch looked lovely!
My main contribution to Christmas Dinner was a Gingerbread Layer Cake with Candied Kumquats.  I think I may need to bake this cake annually.  It looked great, and tasted even better.  The cake was moist and full of flavor.  The spices came through nicely.  The cream cheese frosting included a bit of caramel, so it ended up being a lovely cream color.  It was a sweet and creamy,  and complemented the ginger and molasses flavor of the cake well.  The candied kumquats were difficult to prepare (Thanks Mom and Aunt Kris!), but were delicious!  We used the leftover kumquats to top off a fruit salad the following morning.
My parents and I came home to Texas a few days after Christmas, and were later met by my sisters and their husbands.  Before they arrived, I met some old friends for a coffee date.  Someday I want to be able to make latte art that looks this good!  Props to the baristas at Buon Giorno for making this lovely latte.
The first morning the whole family was home, we did Christmas Round 2, complete with another Christmas brunch.  We prepared another strata, this time using broccoli, red pepper, mushrooms, and bacon.  We served a fruit salad and sweet breads with it.  Lindsey and I each prepared a bread the evening before.  She made Banana Bread, and I made Spiced Pumpkin Bread, which I modified to make a bundt instead of 2 loaves.
That evening we had a blast at our annual holiday party.  As usual, we prepared Caprese Sticks for our guests to munch on.
We enjoyed leftovers and what Lindsey referred to as "the obligatory Mexican meal" for the next couple days.  The last night the sisters were in town, we had a special New Year's Eve dinner.  Lindsey made a delicious Roasted Parsnip Soup with Walnut Pesto for the first course.
We also ate roasted chicken with mushroom gravy, roasted vegetables, and a potato medley with rosemary.
I had so much fun with my family, and loved having the opportunity to cook together again!  It was the perfect way to wrap up the rollercoaster year of 2012.  I look forward to sharing more good food with good friends in 2013!
Happy Eating and Happy New Year!
-C